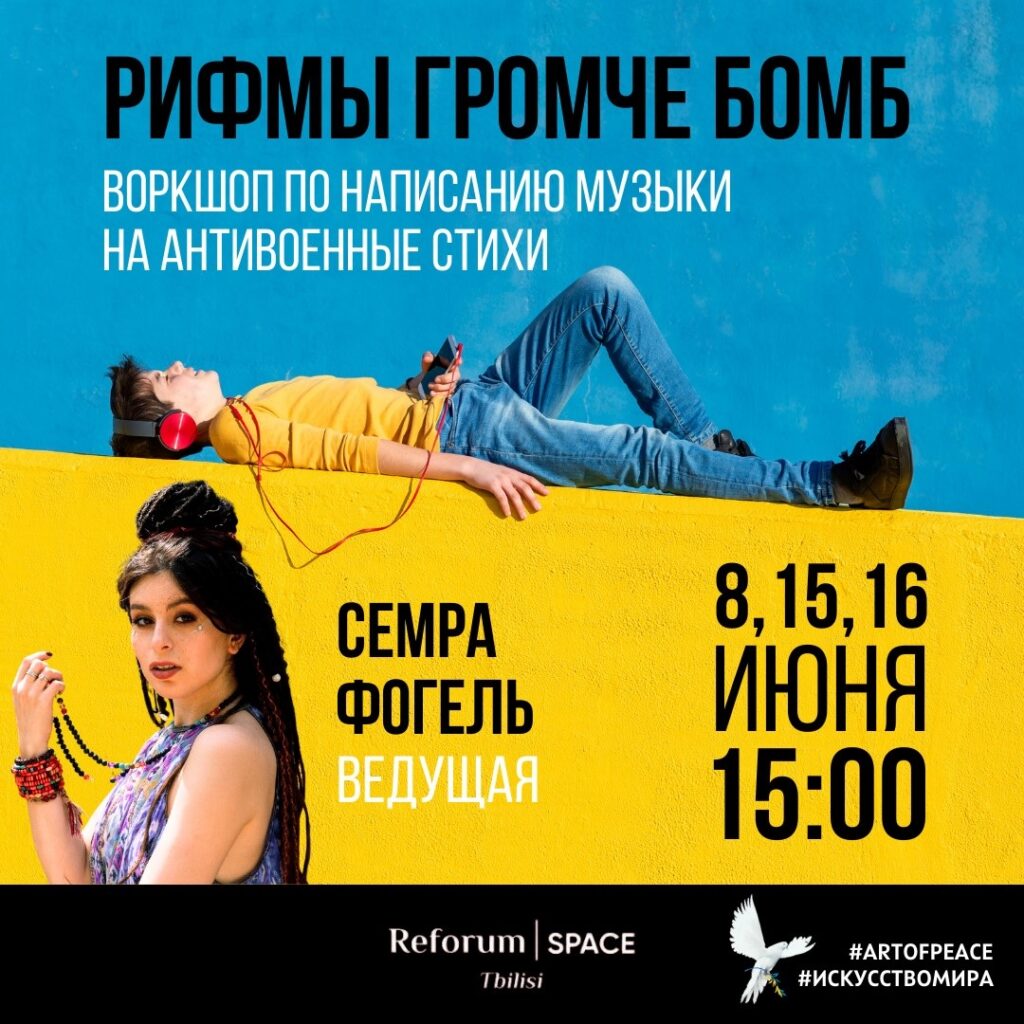 TBILISI, Georgia, 15-Aug-2023 — /EPR GOVERNMENT NEWS/ — This summer, four anti-war Russian emigrants came together through their involvement in the first-ever "Art of Peace" artist residency, backed by Campaigns for Humanity, the human rights-focused philanthropic arm of digital marketing agency Renaissance3. The initiative facilitates connection among artists affected by conflict and provides them with a platform to express their opposition to war and engage with their host communities.
"Art of Peace" innovators blend technology, self-expression to bring anti-war messages to life
Created through a collaboration of artists wishing to remain anonymous due to concerns for the safety of loved ones inside Russia, the cutting-edge project known as "Road Signs" uses augmented reality to catapult street art into the future: Users in Russia and neighboring countries who download the mobile app "AR Hunter" can point their smartphone camera at a road sign and see it transform into an animated artwork promoting peace.
"Road Signs," whose message speaks directly to those potentially involved in armed conflict, will be integrated into the "AR Hunter" [http://arhunter.org/] app created by Anastasia Vladychkina, leader of the well-known art group Yav [https://taplink.cc/yav_zone], by the end of August.
Continuing the embrace of the latest applications of technology in art, prizewinning artist and "Art of Peace" resident Alisa Yoffe [http://alisayoffe.com/] led a masterclass on protest art in the virtual-reality world of "Xanax Tbilisi." During the session, Yoffe virtually "walked" participants through the streets of Tbilisi to view protest art superimposed on elements of the cityscape. Emphasizing the collaborative nature of the project, Yoffe has invited all who wish to contribute their own anti-war graffiti to access the world of "Xanax Tbilisi" through the platform "VRChat [https://hello.vrchat.com/]."
Against the backdrop of war, a poignant artistic movement emerges
A heartfelt song born from the collective contemplation of 10 Russian emigrants when posed with the question, "What would you say to someone fighting in the war against Ukraine?" and titled "To the Russian Soldier," culminates in the haunting refrain, "I want [you] to live… others will live too."
Data reported [https://en.zona.media/article/2023/07/10/stats] in Mediazona underscore the grave risk born by those sent by Russia to fight: While military casualty data are classified, with those daring to report on the number of fallen soldiers prosecuted for spreading "fake news" about the army, as of late May 2023, at least 47,000 Russian men under the age of 50 had died in the war. Mediazona and Meduza estimated [https://en.zona.media/article/2023/07/10/stats] that 78,000 Russian soldiers may have been wounded or missing in action, bringing overall losses to 125,000. This figure stands in stark contrast with publicly disclosed information from Russia; as reported in Mediazona [https://en.zona.media/article/2023/07/10/stats], the last time the Ministry of Defence disclosed any casualty figures was in September 2022, when Sergei Shoygu announced that a total of 5,937 soldiers were killed in action.
Pioneering narratives for peace
Semra Fogel, an inaugural "Art of Peace" resident and architect of the "Verses are Louder than Bombs" workshop, gathered five anti-war poets at Reforum Space Tbilisi [https://reforumspaces.io/] this July for a collaborative art-making experience centered around song. In her own words, "I think art is a way to draw attention to this problem. If more people are going to use their art for this purpose and ask their friends to, we stand a better chance at peace. It'll be better… for those who have already suffered from the war and for those defending themselves against further and further evil that this war brings."
Fogel plans to build on her initial concept, with the goal of scaling it so more people feel prepared to produce protest art, whether collaboratively or individually. Reflecting on the five poets who participated in her flagship workshop, Fogel said, "I'm very proud of their work. I'm proud of my work because I managed to inspire them. It's the coolest thing."
Get involved
To participate in the Art of Peace movement, individuals and communities are encouraged to:
Share their anti-war artwork on social media using the hashtags #ArtofPeace, #ИскусствоМира, #IWantYouToLive, & #ХочуЧтобыЖил.
Contribute to the virtual gallery [https://campaignsforhumanity.com/art-of-peace] hosted by Campaigns for Humanity.
Host their own collaborative art-making meetups. The resident artists crafted a guide for members of the public to use, included below.
Guide to Hosting an Art of Peace Art-Making Meetup
Gather a group of people and any art supplies you like or have access to. Old magazines, glue, and paper are all you need to create a collage!
Together, look at a piece of art, such as one of those included in the virtual gallery [https://campaignsforhumanity.com/art-of-peace/]. Then discuss how it makes you feel, what you like about it; maybe what you didn't understand or didn't like about it.
Spend some time as a group making art or poetry of your own, inspired by the discussion and the artwork. You might use the title "I want you to live" or "art of peace" to help guide you.
Share your work on social media using the hashtag #ArtofPeace, #ИскусствоМира, #IWantYoutoLive, & #ХочуЧтобыЖил.
To stay up to date on the latest Art of Peace news, follow Campaigns for Humanity on Twitter, Facebook, and Instagram.
SOURCE: EuropaWire