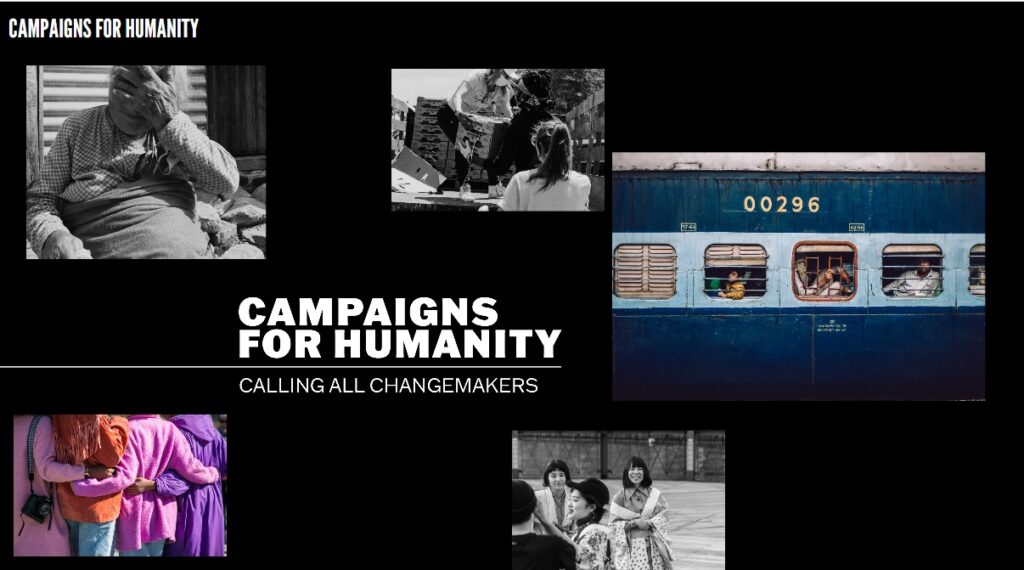 KYIV, Ukraine, 24-Feb-2023 — /EuropaWire/ — Award-winning digital marketing agency Renaissance3 is seeking nominations of exceptional initiatives that have the objective of achieving peace for Ukraine. Each project selected will receive €10,000 in funding, as well as technical and strategic support from the agency's team of digital communications experts.
Since its 2022 launch of Campaigns for Humanity, a people-focused initiative to empower change makers promoting human rights, digital democracy, and more humane economies around the world, Renaissance3 has been steadfast in its belief that with additional support and awareness of their efforts, the legions of Russians and Ukrainians committed to defending Ukrainian sovereignty can achieve their aims.
"I think the only way I can personally help Ukraine right now is by not fighting there," Igor, a 26-year-old IT professional from St Petersburg as he fled his home for Russia, told The Guardian. Tatayana, a doctor from Irkutsk, added as she left for Azerbaijan following reports that Russia was calling up health professionals to the front, "I believe the sooner this horrible war stops, the fewer people will die."
As highlighted in Renaissance3's "24 for 24" campaign, so named in reference to the 24 change makers featured on each of the 24 days leading up to the one-year anniversary of the full-scale invasion, Russians who have fled the war have been using their experience and resources to support the Ukrainian people in extraordinary ways. The campaign, which was designed to illustrate how our shared humanity can allow us to overcome the forces that seek to divide us, offers a glimpse into the vast world of Russians and Ukrainians working alongside one another for freedom and human dignity.
Renaissance3 is an award-winning digital marketing agency staffed by a team of strategists, creatives, and social media experts with diverse experience across six continents and united by a shared mission to not just market, but build movements. Renaissance3 is committed to giving back by investing a portion of its annual gross profits in initiatives that move one or more of its guiding values of human rights, digital democracy, and building more humane economies forward. Learn more at Renaissance3.com.
Renaissance3's call for nominations follows.
Funding Opportunity: Campaigns for Humanity
When we recognize our shared humanity, we are not strangers; we are simply friends who haven't met yet.
Why: At Renaissance3, we believe hope is both the antidote to despair and a powerful motivator. At Renaissance3, we believe hope is both the antidote to despair and a powerful motivator. Since the beginning of Russia's war against Ukraine, more than twice as many Russians have fled their country as have been drafted into the army. Vladimir Putin knows that Russians who become aware of the truth will not want to kill Ukrainians, which is why he is working so feverishly to churn out propaganda and restrict the flow of accurate information inside Russia.
When Putin launched his war of aggression, the world rallied behind Ukraine: Corporations pulled out of Russia, refusing to fund Putin's war machine; strangers welcomed those fleeing the violence into their communities and even their homes; and citizens across the globe deployed their unique talents in support of the Ukrainian people. Renaissance3 was no exception: As an agency dedicated to empowering change agents to defend human rights, fight for digital democracy, and create more humane economies, we jumped at the opportunity to make a difference by doing what we do best.
What we do: In March 2022, we launched Campaigns for Humanity as a people-focused initiative to connect and elevate a global alliance of creatives, activists, and advertisers working toward peace in Ukraine. Since then, we've partnered with Ukrainian creatives to counter Russian propaganda using the power of GIFs; strengthen global solidarity by calling on the world's people to #StayWithUkraine even as the war dragged into the spring; and spotlight the many heroes born of this tragedy through our latest project, 24 for 24. Renaissance3 was recognized as one of the KYIV International Advertising Festival's Positive Change Winners for our work for Ukraine in 2022. And while the awards we've received for our work feel great, we won't set aside our keyboards until there's peace for Ukraine.
As marketers, we understand that attention is finite and prone to waning. That's why, as we mark one year since the invasion began, we're committed to leveraging our skills and resources to breathe new life into the ongoing campaign for peace.
We know:
Russians are being bombarded with propaganda denying the humanity of Ukrainians.
Information breeds resistance to injustice.
Ordinary Russians have extraordinary power to influence the outcome of this war.
How you can help: We're seeking nominations of organizations, projects, or individuals working to achieve peace for Ukraine that could use additional funding and marketing support to magnify the impact of their efforts. Selected nominees will receive the following:
€10,000 in funding to directly support their work to help end the war in Ukraine
Technical and strategic support from our team of digital media experts to amplify the impact of the funded work
Whom to nominate: Selected nominees will be able to articulate how their work can bring peace to Ukraine and how €10,000 in new funding will meaningfully propel that work forward. Self-nominations are permitted. Nominees should be engaged in work that seeks to educate Russians and Ukrainians about ways they can help stop the war by raising awareness, encouraging action, and promoting the principle of shared humanity among all people. The work should align with one or more of the following objectives:
Save Lives:
Humans fight wars; humans can also choose to not fight wars.
Let Russians who have been conscripted into the army or could be in the future know they have options to resist fighting in this unjust war. (Ex: I Want To Live Hotline).
Share Truth:
Counter Russian propaganda by communicating accurate information about the war to personal contacts. Ukrainians and Russians alike can leverage close relationships with family and friends to provide resources that can help them overcome Russian state influence. (Ex: Papa Believe Outreach Initiative).
Build Community:
Foster relationship-building and cultural exchange between Russians and Ukrainians who have fled their countries as a result of the war and have a shared desire for peace.
Submit your nomination: Please fill out the form at campaignsforhumanity.com/call-for-submissions to submit your nomination. Renaissance3 will review nominations on a rolling basis and contact both the nominator and nominee if they are being considered for an award.
SOURCE: EuropaWire