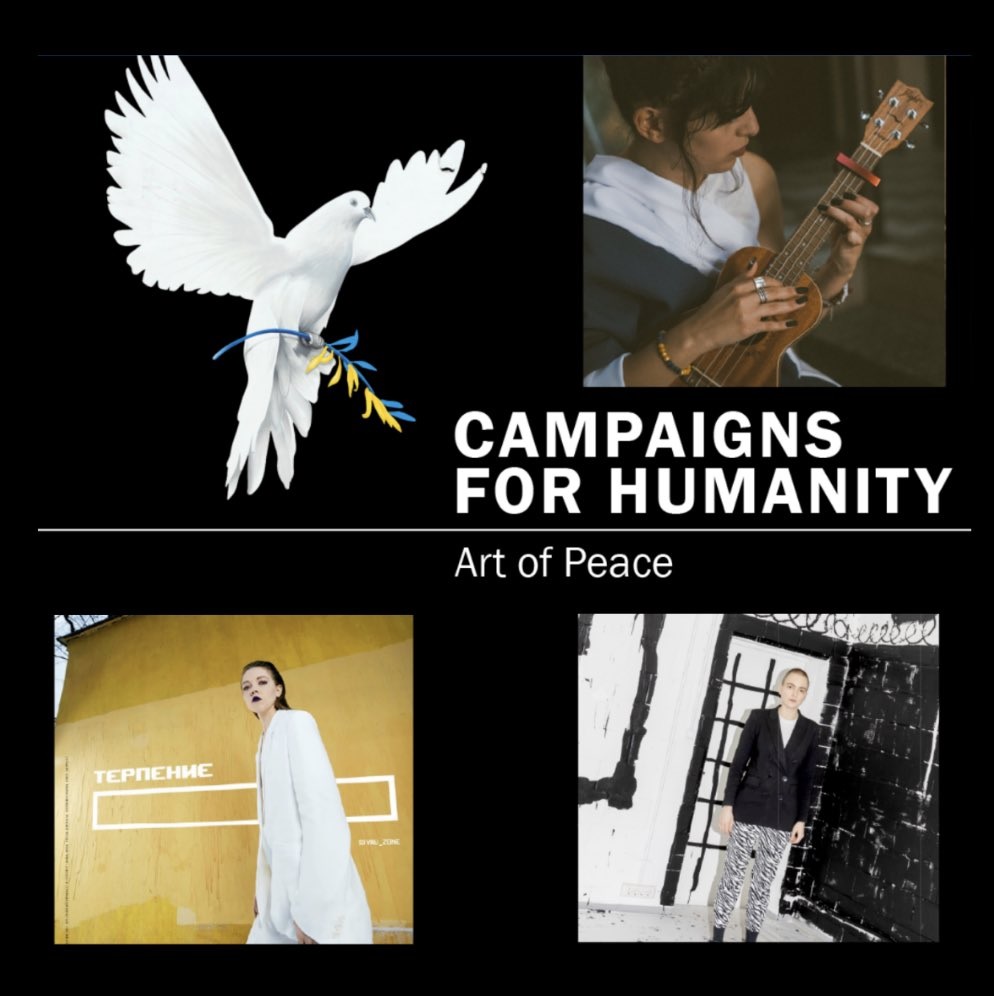 TBILISI, Georgia, 7-Jul-2023 — /EPR GOVERNMENT NEWS/ — This summer, a group of Russian activists, currently living in exile, are banding together to cultivate artistic resistance to the war among the Russian diaspora. The activists, all of whom are working artists collectively specializing in a variety of mediums, initially connected through their participation in the inaugural "Art of Peace" artist residency sponsored by Campaigns for Humanity, the human rights-focused philanthropic arm of digital marketing agency Renaissance3. The initiative is designed to bring together artists affected by conflict and provide them with a platform to express their opposition to war and engage with their host communities.
"It [Art of Peace] provides an opportunity to collaborate with other talented artists, poets, and writers, united by a common goal: confronting war and violence through art." – Anastasia Vladyckina, Art of Peace resident
Reflecting on the residency, one participant, who asked to be identified only by the letter "R" due to concern for the safety of her family still living in Russia, stated, "War cannot stop us from creating art. Here we meet, speak out, exchange, and create."
Driven by their belief in the transformative power of expression, the "Art of Peace" residents are sharing their expertise with the broader diaspora community through immersive art experiences open to the public–including those who may not yet consider themselves artists. During these experiences, participants are guided to cultivate a sense of community amongst themselves as they create works centering around the themes of peace and pleas of "I want you to live," an appeal directed at those in Russia they fear they could lose to this unjust war.
One of the experiences produced by the residents, titled "Verses Are Louder than Bombs," is being organized by musician Semra Fogel and takes place at Reforum Space Tbilisi on 8, 15, and 16 July. Prospective participants must submit an application containing an original anti-war poem, which they will transform into a soundtrack over the course of three sessions led by Fogel, who received professional training in workshop facilitation as part of the "Art of Peace" residency.
"I want to inspire people opposed to the war to create art and feel the courage to share it with those who became victims of propaganda," said Fogel. "I believe that art can be a powerful tool to promote peace and understanding between people of different backgrounds and political opinions."
Those selected by Fogel to participate will have the opportunity to contribute the song they create during the sessions to an anti-war album that will ultimately be released to the public. Participants pay a fee of 30 GEL, with all proceeds sent to Helping To Leave, a volunteer-driven initiative that provides assistance to Ukrainians affected by the war. Participation is free for Ukrainian citizens.
Additional "Art of Peace" resident-led experiences, including a collaborative street art project conducted in augmented reality and a masterclass in protest art held in virtual reality, will be announced soon.
"Art is also capable of restoring the spiritual strength of people suffering from war and destruction. It can help them perceive the world and themselves in it anew, seeking paths to inner reconciliation and emotional peace. In this sense, art serves as a means of healing and self-expression, which can help people cope with traumas and fears." – Anastasia Vladyckina, Art of Peace Resident
As "Art of Peace" moves beyond the residency phase and expands its reach to the general public, the founding class of artists expressed enthusiasm about the project's potential. "While war–using weapons–deprives us of the opportunity for dialogue, art remains a means of interaction on the path to peace," wrote resident Alisa Yoffe, who is known for her large-scale anti-war art installations. "I am an artist from Russia, and I find it extremely important to speak out against war."
To participate in the Art of Peace movement, individuals and communities are encouraged to:
Share their anti-war artwork on social media using the hashtags #ArtofPeace, #ИскусствоМира, and #IWantYouToLive.
Contribute to the virtual gallery hosted by Campaigns for Humanity.
Host their own collaborative art-making meetups. The resident artists crafted a guide for members of the public to use, outlined below.
Guide to Hosting an Art of Peace Art-Making Meetup
Gather a group of people and any art supplies you like or have access to. Old magazines, glue, and paper are all you need to create a collage!
Together, look at a piece of art, such as one of those included in the virtual gallery. Then discuss how it makes you feel, what you like about it; maybe what you didn't understand or didn't like about it.
Spend some time as a group making art or poetry of your own, inspired by the discussion and the artwork. You might use the title "I want you to live" or "art of peace" to help guide you.
Share your work on social media using the hashtags #ArtofPeace, #ИскусствоМира, and #IWantYoutoLive
To stay up to date on the latest Art of Peace news, including announcements of forthcoming workshops, follow Campaigns for Humanity on Twitter, Facebook, and Instagram.
SOURCE: EuropaWire